Here at Kids Party Finder HQ, we were delighted to recently be recognised by Theo Paphitis (of Dragon's Den fame and a successful entrepreneur in his own right) as a winner of his Small Business Sunday (SBS) initiative.
Each week, Theo picks a handful of small business to share with his large social media following of over 500,000, giving Kids Party Finder an instant increase in exposure. Since our victory, we have received increases in interaction across all of our social media channels as well as our website. As well as being good for us, this also gives a boost to the audience who we can share our listed suppliers with.
Being recognised by Theo gives Kids Party Finder much more than this. We are now profiled on the #SBS website that is exclusive to all Small Business Sunday winners. We also now have access to other like-minded individuals each of who are running their own small businesses and can add value to our offering. We have already made a number of good connections from which we have some exciting initiatives to work on.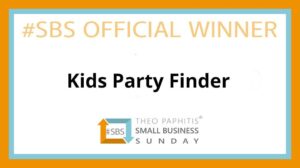 In his own words, Theo has provided the following which we would like to share:
We are thrilled to welcome new #SBS members every week and highlight just how important it is to support our small businesses here in the UK. My vision is that everyone who has ever won an #SBS re-tweet from me becomes part of a friendly club; like-minded individuals who can share successes and learnings. The website will also give a valuable profile to the winners chosen and I wish Kids Party Finder every success.
While this is great for Kids Party Finder, we also wanted to highlight SBS to all our listed businesses. At this time more than ever, small businesses are facing challenges and the benefits that can be obtained from such recognition as Theo's can be invaluable.
Anyone interested in entering SBS can do so by tweeting him about their business on Sunday between 5 PM and 7.30 PM and include the hashtag #SBS. The winners are then re‐tweeted every Monday at 8 PM and then invited to enter their profile on the new website, attend the annual #SBS networking event and take advantage of the networking opportunities.
We look forward to getting stuck into being part of the SBS Family and hopefully being able to pass on these benefits to both our listed suppliers and people using our site to plan the next perfect party!
Ps – make sure you are following our Instagram, Twitter and Facebook profiles for all the latest KPF news and initiatives!